Around the world, there are still sad people who think that French movies are lame, frankly boring, or covered with a thick slice of cheesiness that would make your own socks smell like an bouquet of red roses.
As a French man I can rely up to 60% of this statement: most French movies can be a bit dull, but a few of them are definitely worth the watch.
Once in a while there would be someone asking about "good" French movies . I'm usually too busy or mind altered to give a proper answer. Now that I am neither of these, let's just get started:
1) Le père noël est une ordure - Santa Claus Is A Scumbag (1982)
We put that one on the top of the list for legal reasons. It is indeed mandatory to see this movie if you even pretend to have interest in French culture. Like the winter flu and Christmas dinner Marathons, Le père Noël est une ordure is a movie you can't escape from. It is packed with famous sentences ("c'est cela oui...') and you won't spend a week in France without hearing a reference about it. A classic amongst the classics. Unlike your creepy uncle, it just doesn't get old.
2) Les visiteurs - Visitors (1993)
Pitch: a twelve century French knight and his sleazy servant are transported in modern times by mistake. There will be blood, people shouting and a weirdly arousing Valerie Lemercier as a French aristocrate. A must see for anyone interested in approximative french history and extreme close ups on rotten teeth.
Recommended for: Erasmus Students spending a gap year in France to get some medieval art degree and have sex with as many people as possible.
3) La haine- The Hate (1995)
Breaking news: Marine Le Pen ( a far right politician who made it BIG thanks to her dad's money and her somehow trendy vision of xenophobia) is now considered one of the most influential person of 2015 by the Time magazine itself. National facepalm here we go.
That's a fact, France has always had a complicated relationship with its immigration. Twenty years ago, the La haine movie would describes this feeling of fear and animosity towards "french ghettos". It is dark, tense, served by honest acting and still very accurate. Not to mention the soundtrack that made people head nod before it was cool.
4) La grande bouffe - The BiG Feast (1973)
When I first saw that movie I wasn't very impressed. One hour and a half of people eating cake until gastric implosion and having sex on kitchen tables sounded like a regular Sunday to me.
Four characters ( a judge, a jet pilot, a chef and another dude making more money than you) just decide to commit suicide by eating, drinking and having group sex during an extended weekend.
The absurd tone of this movie made it an all time scandal but also an attack on good old society values. It is also a weirdly good laugh to see people farting until they die.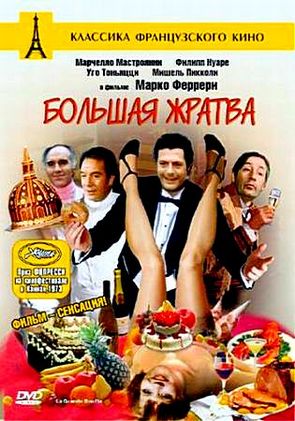 A movie so good it's even famous is Rushhhia!
5) C'est arrivé près de chez vous - It just happened in your neighborhood (1992)
There's a thing I always say to sound smart, but that's actually true: sometimes, funniest French movies ever made are actually from Belgium
Belgium people aren't like us: they would prefer low grade beer to whatever fancy wine and they don't spend all the time complaining about their government, last time I've checked they didn't have one.
"C'est arrivé près de chez nous" is a low budget dark humor comedy, sometimes gruesome but really funny all the time. Benoit Poelvoorde plays the main role of a bigger than life psychopath killer that would make your mom burst with laughter. I must warn you though , there are awful things in this movie that cannot be unseen. If it's too much to handle for you, go back to your room and go watch Amelie Poulain.
There are many others good comedies out there, but so little to watch them all. You can find good subtitles for any of them on Youtube.
Have a good boring night with all that french masterpieces.
On vous aime beaucoup
LGDC
( More about glorious french culture and stuff like this HERE )